8 Mar 2021
Located 15 miles from Wilmington on Pleasure Island, and down the road from Carolina Beach, Kure Beach is a quiet seaside community perfect for families and those looking for a little seclusion. 
Bryant offers a great selection of professionally managed Kure Beach vacation rentals. Here are a few of our favorites.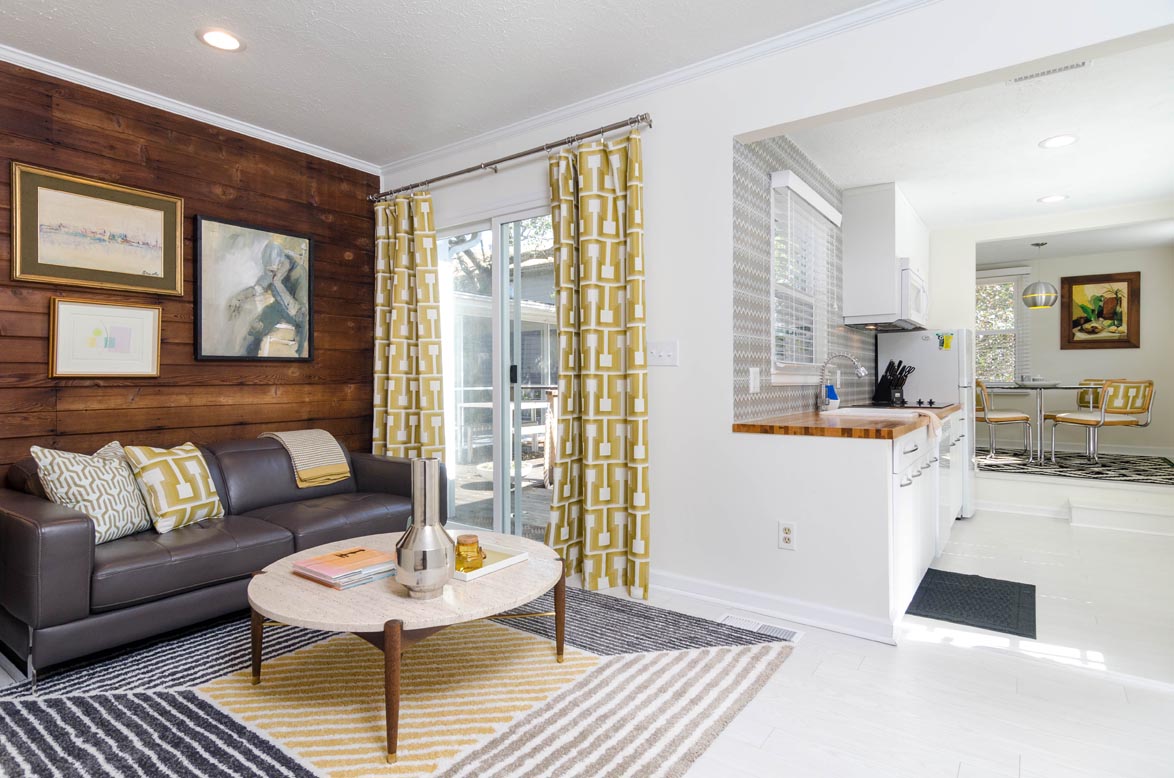 Coastal Scandinavian is a perfect little studio on the backside of the home that is cozy for two and just a block from Kure Beach. If you need that weekend getaway for just a short time, this is the place for you; two-night minimum stays are allowed throughout the year.
Decorated in modern eclectic, but simple style with comfort and functionality as the main goal, the studio, as we call it, is directly attached to the main house, which is separately rented. There two structures share a deck but have separate entrances for the convenience and privacy of its guests. There is a partially equipped kitchen. Please note the kitchen does not have an oven but it comes with all the needed utensils to cook a meal or simply open a bottle of wine. The living room features a comfy sofa, marble coffee table, flat panel TV, Cable, DVD player, and soundbar. The bedroom has a queen-size bed and a charming little en-suite bathroom. A quaint bistro set is also provided on the back deck for an impromptu alfresco meal or an afternoon drink.
Parking for one car.
Featured Amenities:
Internet/Wifi
Linens Included
Island Interior
Enter Dates for Availability >>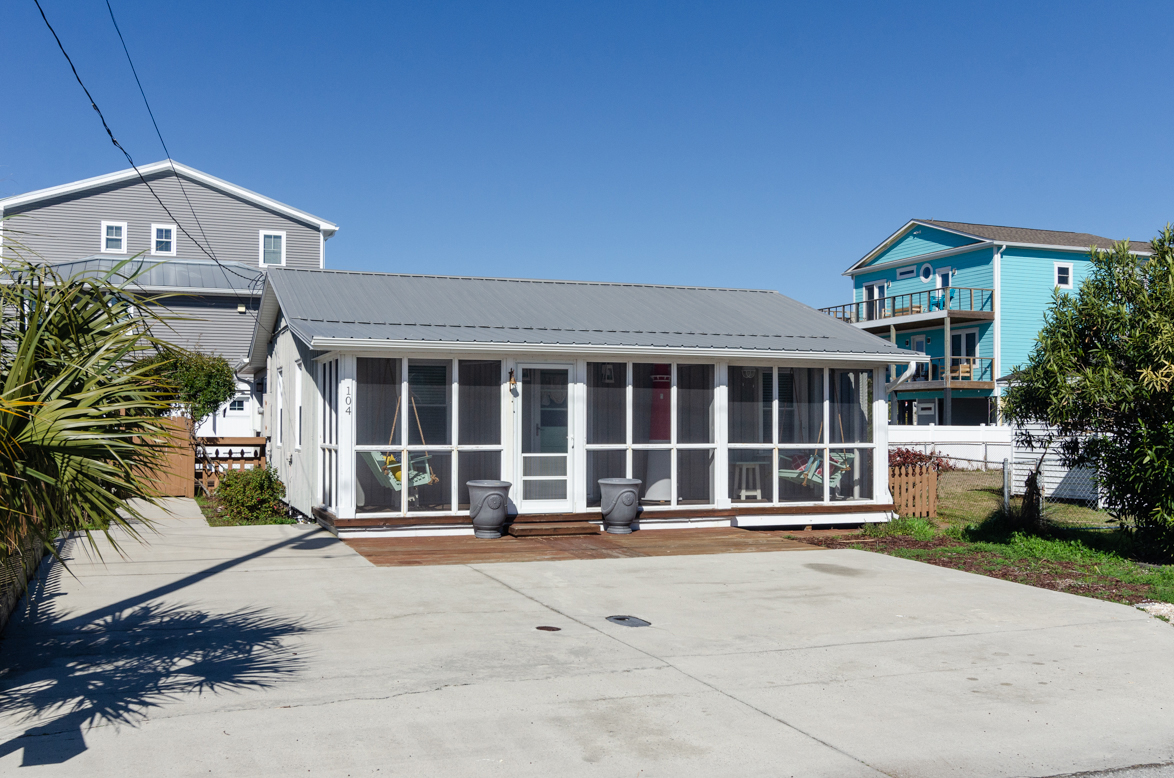 Sail away to Almost Heaven, a charming Kure Beach cottage rental; just a block back from the Atlantic nestled in on Myrtle Avenue, and convenient to the Carolina Beach Boardwalk's shops, restaurants, and events. This pet-friendly single-family home has everything you need to make you feel right at home. 
Relax in the shade on the screened-in front porch or take in some sun and a little more privacy in the fenced-in back yard. Inside the home, the living room leads to the open dining and kitchen area. The front bedroom has a full bed and shares a short hall with a bunk bedroom and a full bathroom. The master bedroom has a full bed and a sliding glass door leading to the backyard, and the master bathroom features a large walk-in shower with beautiful custom tile work. This is a clean, classic, and comfy little cottage that will be sure to bring you back year over year.
The cottage driveway can accommodate up to 3 standard size cars or 2 vehicles if one has a trailer.
Featured Amenities:
Internet/Wifi
Single-Family
Pets Welcome
BBQ Grill
Linens Included
Enter Dates for Availability >>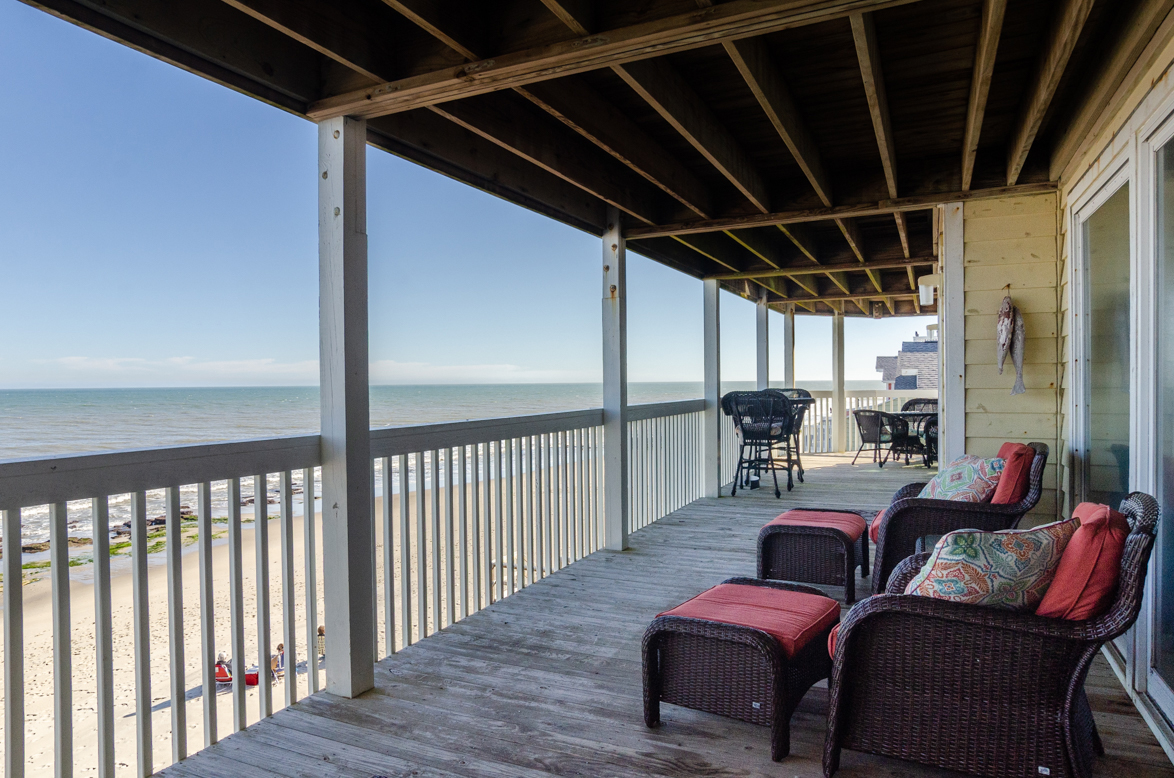 Once you open the door to enter this well-appointed Ocean Dunes Resorts condo you will be amazed at the expansive breath-taking oceanfront views of the Atlantic directly from your porch. The open design of the living room, well-equipped kitchen, and dining area gives you the feel of comfort while still being together for family meals and fun.
Ocean Dunes Resort amenities offer 3 outdoor swimming pools, 1 recreation center with a pool, and fitness center, and a playground area with tennis courts. Make your plans to visit Nestled Inn on your next vacation and experience all that Kure Beach has to offer.
There is no smoking on this property and no pets are allowed. There is parking for 2 cars.
Featured Amenities:
Internet/Wifi
Pool
Oceanfront
Ocean Dunes
Linens Included
Elevator
Enter Dates for Availability >>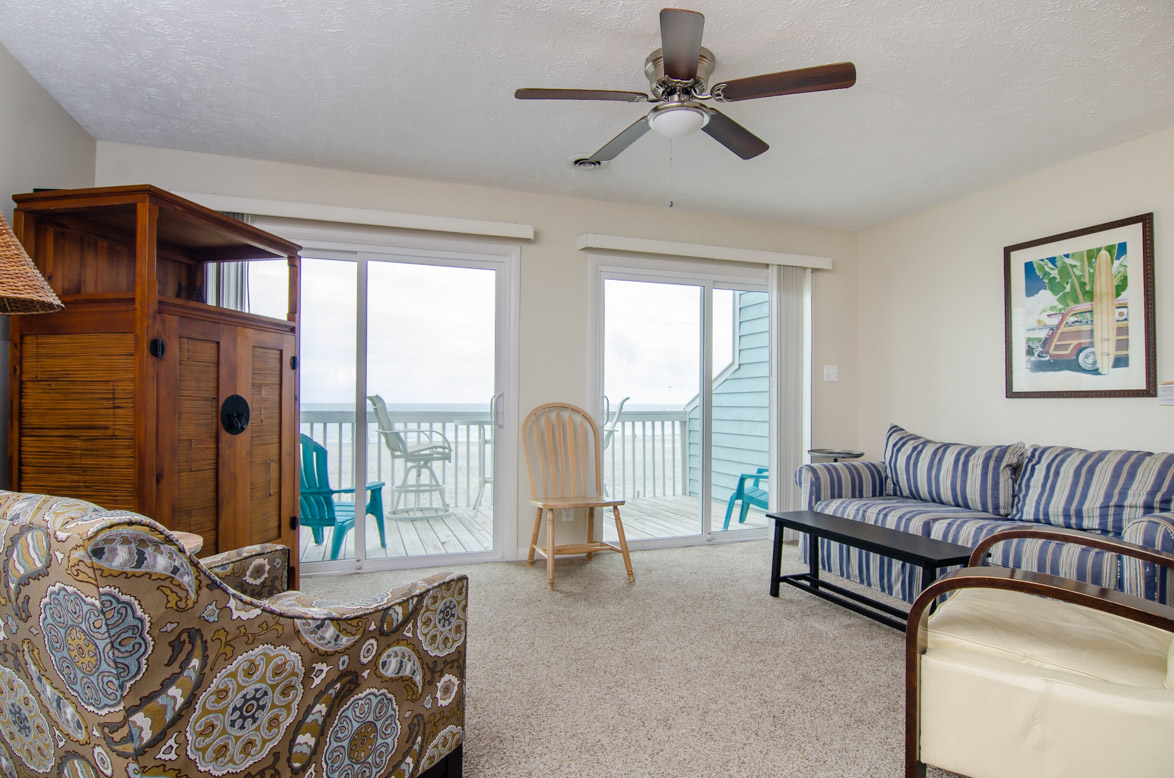 Welcome to Kure Beach and your next relaxing vacation destination at "Miss-Sea" Ocean Dunes. This beach townhouse has everything you need to enjoy a wonderful week with family and friends. This pristine location in Ocean Dunes Resort is the perfect spot to bring your family. This unit has private beach access to the left of the building and an outdoor pool and Gazebo to the right. Large carport area for parking and a private storage closet to store and lock your beach items. 
Ocean Dunes recreational facilities include a large indoor swimming pool, hot tub, exercise room, outdoor tennis courts, and playground.
Featured Amenities:
Internet/Wifi
Pool
BBQ Grill
Oceanfront
Ocean Dunes
Linens Included
Enter Dates for Availability >>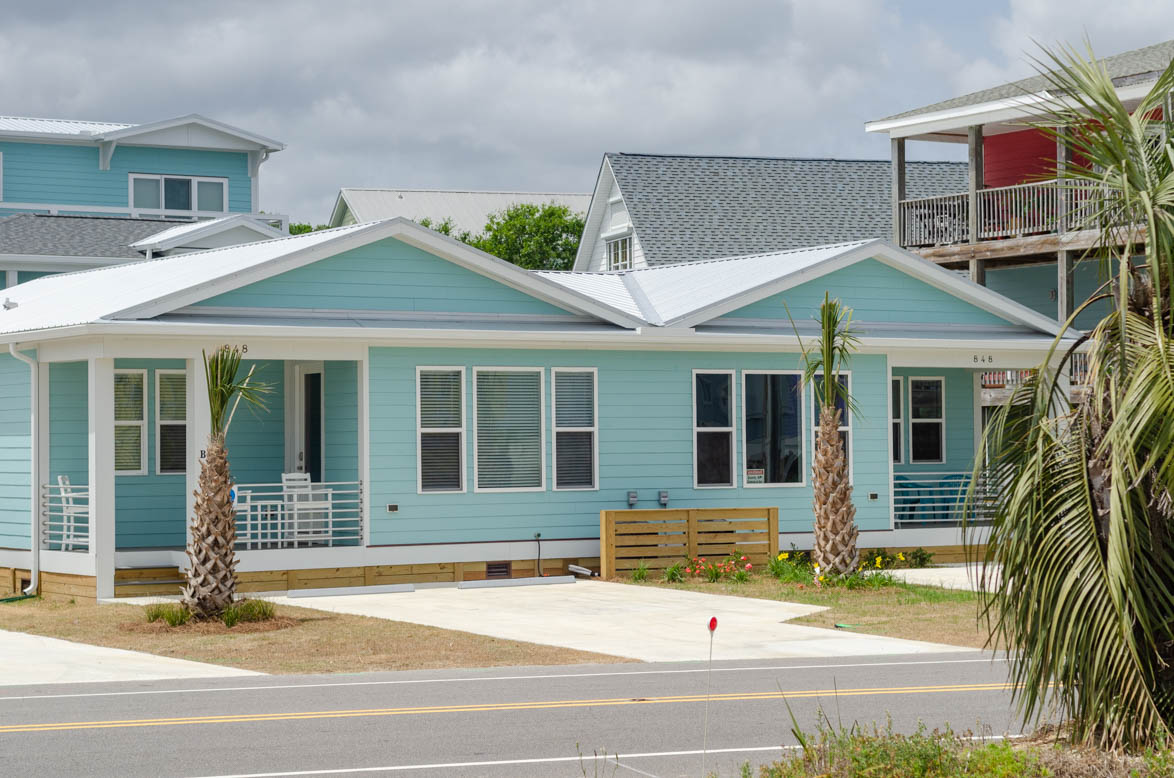 Sea more Sun is a sweet newly constructed (2019) little duplex in Kure Beach. The property features 3 bedrooms and 2 baths with a delightful covered porch to just sit and relax after a day on the beach. In addition to 3 bedrooms and 2 bathrooms, Sea more Sun offers guests a well-equipped kitchen feature an open design with a cool comfortable feel immediately when you open the door. The living and dining room provide great spaces to gather, play a game or relax together on the couch.
Take a walk up to the Kure Beach Pier to see the Catch of the Day or take the family to one of the restaurants in downtown Kure Beach. 
There is parking for 2 cars. Beach Access is at Davis Drive.
Featured Amenities:
Internet/Wifi
Ocean View
Linens Included
Enter Dates for Availability >>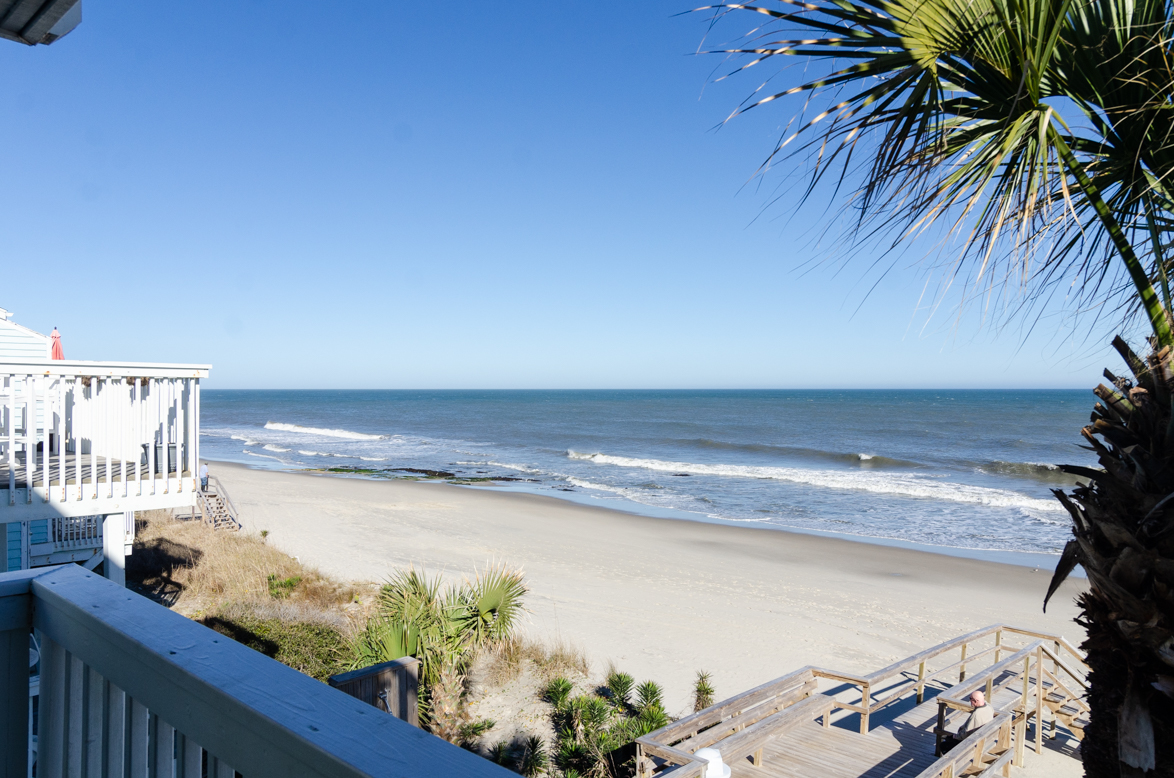 This uniquely designed end-unit Ocean Dunes Resorts condo gives you a beautiful view and experience of the Atlantic. There is plenty of room to accommodate up to six guests, with a sleeper sofa in the living room This unit is located on the southern tip of the Island where you can find the unique coquina rocks that bubble up with fresh water. There is plenty of room for soaking up the sun or swimming in the cool waters.
Ocean Dunes is an ideal year-round vacation spot for families. Amenities include indoor and outdoor pools, a hot tub, a tennis court, basketball court, club house, fitness room with new equipment, sauna, picnic grounds, and a playground. Whether soaking up the rays on the beach, lounging on the deck, or taking the family to the nearby aquarium, you are sure to enjoy your stay at Ocean Dunes in picturesque Coastal Carolina. The property also features a private walkover to the ocean.
Parking for two vehicles under the unit.
Saturday to Saturday rental.
Featured Amenities
Internet/Wifi
Pool
Oceanfront
Ocean Dunes
Long Terms Accepted
Linens Included