6 Jul 2017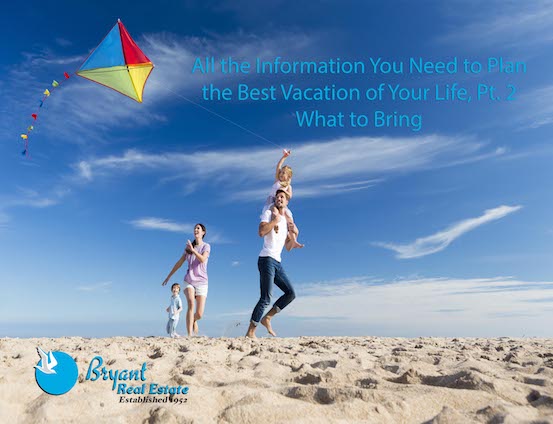 In the first installment of "How to Plan for the Best Vacation of Your Life," we discussed how to find the perfect location for a vacation rental. In this post, we'll be talking about what to bring and what to expect in your rental home. Everyone has a different expectation when it comes to rental homes. Some people assume the house will be completely empty, while others expect a vacation rental to be fully stocked. Based on this list from our website, here is a comprehensive, but not exhaustive, list of what you can expect to be in the home vs. what you might want to bring along on your beach vacation.
To bring or rent:
-Bed sheets
-Bath towels
-Beach towels
-Dish cloths
-Crib/Pack 'n Play
-High chair
-Beach chairs
-Beach equipment (umbrellas, coolers, wagons, etc.)
-Bicycles
To pack or buy:
-Extra blankets
-Toilet tissue
-Paper towels
-Aluminum foil/Saran wrap
-Dishwashing detergent
-Bath soap
-Shampoo/conditioner
-Toothpaste
-Condiments/seasonings
-Food
-Fishing equipment
-Sunscreen/lotion
-Clothes hangers
-Garbage bags
-Napkins
-Laundry detergent
-Medicines
Please note that, while our rental homes are required to have basic household items such as cookware, dishes, glasses, silverware, pillows, mattress pads, and comforters, what our owners supply beyond that is at their discretion. Each home is uniquely and individually owned. Some owners may choose to leave items such as beach equipment, chairs, seasonings, etc., but they are not obligated to do so. To find out whether these items may be supplied at your rental, or to ask how to rent anything and everything you might need to make your vacation complete, call one of our experienced reservations specialists who will be happy to give you all the details!