24 May 2017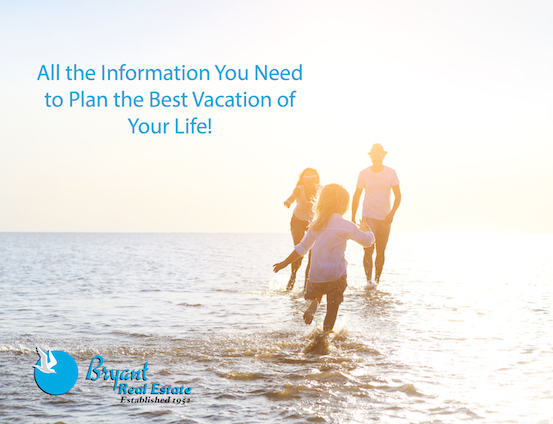 Everyone looks forward to their vacation as the time of year when they get to sit back, relax, and let the stresses of everyday life melt away. But what people don't talk about is the stress that comes along with planning the details of a vacation. Whether you are detail-oriented and like to have every minute of your trip scheduled, or the kind of person who just likes to live in the moment, there is a certain amount of planning to be done before you put your feet up. No matter what type of planner you are, the reservations specialists at Bryant Real Estate get a lot of the same frequently asked questions from our guests. Thus, we have put together this three-part guide designed to help you plan the absolute best vacation of your life. From narrowing down your search options when searching for the perfect vacation home, to planning what to bring with you and what to expect in the home, to finding the best activities in the area, we've got you covered. With this inside information, you'll be armed with all the knowledge you need to make you your family's vacation hero.
The first step in creating an awesome vacation is finding the perfect place to stay, and knowing exactly what you want can greatly improve your search results. First, you'll want to decide on your exact arrival and departure dates. During non-prime seasons (between Labor Day and Memorial Day), many of our properties allow partial stays. This means that you are not required to stay a full week, and you can check-in any day you'd like. In the summer, things are a little different. You will likely have to plan your vacation to stretch a week: either Friday-to-Friday, Saturday-to-Saturday, or Sunday-to-Sunday. Saturday is the most common turn-day. Once you know when you want to come, you can start thinking about location.

We offer rentals on all three New Hanover County beaches, but ocean views aren't all we have to offer! Though we do have many oceanfront properties , we also have homes on the sound, with views of the canal, and even some in residential areas for guests who enjoy peace and quiet. There are a couple diverse ways to find the location of a unit that interests you. When searching on the website under "Vacation Rentals," you can see all the units we have by location by clicking "Properties by Beach." There you'll be able to see what we have on Wrightsville, Carolina, and Kure Beaches. If you need more than one unit and you'd like them to be close together, the website can help you with that, as well. While searching our vacation rentals, enter all the specific details you have, such as arrival and departure dates, occupancy, and area, and click the "update results" button below the search field. When you've got a list of unoccupied properties, switch from "grid view" to "map view" on the right above the pictures. The blue dots with numbers in them represent an area of the island, and the number is how many open units are in that area. When you click the dot, the image will zoom in so that you can see each unit and its proximity to the others. The yellow dots represent a larger area with smaller areas within, so when you zoom into a yellow dot, you will see smaller, blue dots within that area. This feature is especially helpful if you're looking for multiple homes near the same landmark, such as the Carolina Beach Boardwalk, Johnnie Mercer's Pier, or the Fort Fisher Aquarium! If you don't have any details yet and just want to see what properties we have close together, that's fine too- you can simply switch from grid view to map view without filtering the options. Once you know where you'd like to be, you'll want to think about how many people you need to accommodate.
Having a firm grasp on the number of occupants will not only help make sure you find a property that is big enough to lodge your group, but will make sure you don't end up in a larger-than-needed home and, therefore, save you money. A key component in finding the perfectly sized unit is understanding the difference between number of bedrooms and maximum occupancy. Because of varying bed sizes, homes with the same number of bedrooms can accommodate different numbers of people. For instance, a three-bedroom house might have a king size bed in each room, making its maximum occupancy six people. However, another three-bedroom house might have three twins in one room, a bunk bed and a full in another, a king in the master, and a sleeper sofa, creating an occupancy of eleven people. It is important to take bedroom layout into consideration when planning for your specific group- not all homes of the same size are created equal! You can find the specifics of the home on its page on our website. The "amenities" tab will tell you how many of each bed size a home will have, and the pictures should show you what rooms they are in. However, if you have any questions about a unit, or the pictures don't give you the information you need, a reservations specialist will be happy to give you all the details.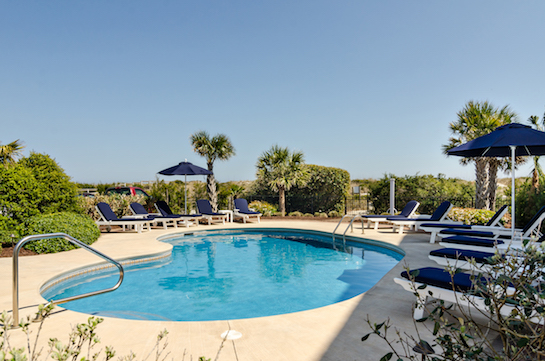 Narrowing down your options by date, location, and size will get you well on your way to finding your perfect unit, and there are two ways to do that. We have knowledgeable reservations specialists available seven days a week who will be happy to help you plan your stay. You can reach a reservationist by calling 1-800-322-3764. If you're the kind of person who would rather do things yourself, our brand new, intuitive website will guide you through the entire process from conception to booking. To get started on the website, you can go to "vacation rentals" and search by arrival and departure dates, occupancy, and area. Or simply narrow down your results by clicking on "Properties by Amenity" where you can find all properties that are dog-friendly, boat-friendly, or have a pool.
Whatever your wants and needs are for a vacation rental, Bryant Real Estate has it. With this guide, you'll be able to get started finding the perfect place for your group. Look out for the next post where we'll be discussing what to expect and what to bring to turn your rental into the perfect home-away-from-home!